For those who have gone on to the Rainbow Bridge
---
A Listing of those on the Remembrance Pages
Begining on Jan 1, 2002
A Listing of those on the Remembrance Pages
Begining on Jan 1, 2001 to December 31, 2001
---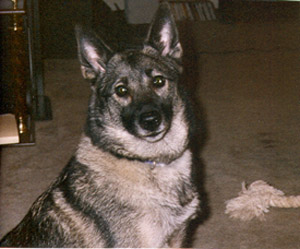 MICA BEAR
10/14/94 - 12/07/05

You died without much warning, although maybe we missed the signs,
you are missed and loved, till we meet on the bridge. Goodbye 'ole friend.
D & M Mann.
---
ESKAMERE YARLA BARBELKA
14/3/1992 - 1/11/2005
Today to preserve dignity and avoid suffering we said goodbye to 'Elka' at 13 years 7 1/2 months of age. Foundation of my Barbelka family of Norwegian Elkhounds.
Eskamere Yarla at Barbelka was bred by the late Ann Heward and Hans Wreschner and was by Eskamere Solo at Ravenstone x Rosabarr Katie.
Go say hello to Ann.
Barbara Barganska BARBELKA NORWEGIAN ELKHOUNDS

---
PAJEROWSKI'S CORDIAL BRANDY
12/14/1993 - 10/17/2005
Brandy was my first elkhound and my first dog as an adult. She definitely kept me on my toes when she was younger since she was a hunter, an escape artist, a barker and a chewer. She was also the sweetest little girl that anyone could ask for and was a great communicator. She had different sounds for everything and over time I learned what each little noise meant so I didn't even have to look at her to know what she wanted. Up until her last few weeks she was still very happy and energetic and for that I am so thankful. She will be greatly missed.











---
TASHA
5/27/91 -- 2005
TIRO'S SILVER MAGIC, CDX, AX, AXJ, HCT, VNE
"I still remember getting a call from her breeder that the puppies were coming and did I want to come and watch them being born. I don't remember the drive there but I do remember holding a freshly born puppy all slick and squirmy and I was in love. Tasha taught me so much about dogs in general and elkhounds in particular. I bought her as a pet puppy and we started in obedience then agility. We even tried herding and tracking. But her favorite activity was meeting people. She loved when we had booths at festivals and shows because she could go around and kiss all the kids and smooze with their parents. In the end old age caught up with her and I had to hold her and let her go. The day she left she took a piece of my heart with her. May she be comfortable and happy at the Rainbow Bridge.
Love always, Kris"
---
"MISHA"
09/28/88 - 11/02/2004
Misha was the sweetest most gentle natured dog I have ever had. He loved everyone and everything. He easily made friends with other dogs, as well as horses, goats and all other animals. His curious beautiful brown eyes are still so vivid in my mind and heart. When living in Connecticut and Virginia he loved hiking with us and plopping down in a nice cold stream in the winter. He had his weak moments of chewing up a couch or two and garbage can diving, even if it was just to tear up tissues.....oh yeah, and that feather pillow. That was great fun for him! But, all in all, I could never have asked for a better friend and constant companion. When we lost him, he took a piece of my heart with him. I dearly love him and sorely miss all the silly things that he loved to do. I live in Florida now, which is just too hot for his breed. If I ever move north again, I would love to have another Norwegian Elkhound. My Misha Moo is never far from my mind and through the hundreds of pictures and videos taken of him, he will never be forgotten. Bye baby dog.
Cyndi, Chris and brother Rudy Husky Dog.

---



SHEENA
Sheena was born 26 June 2000. She would have been have been five years old on the 26th of this June. I went on vaction and was called home due to her death. Sheena was the love of my life. She was a wonderfull girl and the best friend I could have ever asked for. She carried my heart with her when she passed and will be remembered by all with love and affection. I miss her with every fiber of my being and pray she is happy and healthy now.



Sincerely Jason D. Winn






---
CAN INT CH LENANS BALDER JARL AV KIVA
AKA "BUDDY"

5/10/88 - 5/10/05



Noble, proud, courageous, supremely confident and strong willed. Much loved and forever loving and devoted companion. His happy nature was seen in his constantly wagging tail and his intelligence in his bright, mischievous eyes. Time and again over the past year and a half his indomitable spirit defeated the ravages of old age. Balder, which in old Norse means "prince," was the fairest and most beloved of the gods. Jarl, which in old Norse means "noble," was the father of the noble race of men including kings. Buddy in contemporary English means "good friend." He truly lived up to all of these. Farewell and rest in peace dear friend. I miss you terribly.






---
BUSTER-
6-4-2005
11 year old German Shepherd dearly loved by Steve, Shannon, Jan, Rich & Sean and best friends Taz (Elkhound) and Gabby (mixed). He will always be remembered.
He went to Rainbow Bridge on June 4th.
---
TWINPINES-NORMARK IVY LEAGUE
"IVY"
2-15-03 - 2-10-05
Owned by: Cynthia Kinser & Diane Coleman
Bred by: Virginia Curtner & Diane Coleman
To say that Ivy was a character, was putting it mildly. She had a way of getting into the hearts and under the skin of everyone she met.
She had a short but promising show career.
But most of all she was IVY.
Due to tragic circumstances, she left us way too soon. She will be sadly missed by her family, both canine and human.
Many thanks to Virginia Curtner and Diane Coleman, for allowing me to share in this girl's life.
Cynthia Kinser



---
"KVASS"
5/5/1992 - 12/22/2004
"I got Kvass when he was 9 weeks old. He was a real cutey. My first show dog. Learned to show with him, but we never did much. He did not like to go in the ring. So he was retired and became the guardian at the house. Anyone who would have tried to come in with him in here would have been in big trouble. He was having small strokes, and was becoming very disoriented. The time finally came today.......and he joined his old buddy, Rambo. He will be missed very, very much.
Jo, Harold, PJ and Radar."





---
"RAMBO"
4-30-1988 to 11-30-2004
Assisted to the Bridge at 16 years and 7 months
"He was the dearest old dog you could ever want. Always happy and friendly. Seemed to love everybody. He and his sister Gretchen came to live with us when they were 9-10 months old. Both settled right in and this became their home. He did rather like to chew on occasion, several books, and one of my new sneakers. But other than that, he was just a loving companion. He will be very much missed. His age just caught up with him and we had no choice but to send him to the bridge to be with his sister. Just before the end, he held his head and ears up like he was seeing someone. I like to think it was Gretchen. You certainly will be missed, old man. Till we meet again..........
Jo, Harold, Kvass, PJ and Radar
---

SGT. BEAR of MT ELKSTAR - aka BEARBO
Oct 20, 1992 to 29 Dec 2006
I lost my elkie, bear on 29 Dec 2006. He was 14 years, 2 months, and 9 days old. He came to me as a rescue when he was only 1.5 yrs old. I couldn't have asked for a better dog, loved going for rides in our 95' Bronco. I am sure he thought of it as his car, he was with me the day I bought it and he got to ride home in the front seat. He learned the borders of our new house 6 years ago and patrolled them very well. The cats, raccoons and red foxes are very happy he is gone as they now have been learning that walking thru our yard front or back is now safe. He was the best hunting dog you could ask for, as long as you were hunting what ever he wanted to. I have missed him so much, much more lately than I thought possible.
Thank you, Michael.









---

SAGE
2000-2006
My sweet boy was born in March of the year 2000, on St Patrick's Day. He came to me Memorial Day weekend and every night slept with his head on my shoulder. He needed to be shown that he was supposed to potty outside only twice before he started going to the door by himself the very first day he was home and he was only 10 weeks old! I never, ever had to clean up one house training mistake during the course of his life. Very early on, it became obvious that there was something abnormal with his kidneys and I lost my sweet , beautiful soul mate at the age of 6 and 1/2 in Nov. of 2006. I know he is on the other side waiting for me with his elkhound siblings, sweet Ching, and brave, beautiful Nick, running and playing with an energy his body just didn't have in this life . I hope he and Ching and Nick, ( and his husky/chow brother)know how deeply they are missed and what joy they brought to my life. This photo is of Sage at a little more than 1 year old.
I also wanted to put in the husky/chow's name, which was Elvis. He was Sage's lifelong companion and died the year before. I didn't have him long enough either; he was a rescue off the street and was already around 5 years old when he came to me. I'm so glad that Sage will have this tribute to him along with all the other beautiful souls you have pictured on this site. Thank you, thank you, thank you!
Judy Vasquez

---


Nikita came to us after we moved away from our home town and needed some company. She was born the month we were married, March of 1999. She had her very own unique personality that could even be difficult to live with at times. "Nikademus" was a member of the family and was with us through many difficult times. I will always remember her for her own affectionate ways. She is missed by every member of this family, even our other Elkhound "Iyko" who is adjusting to the change. Nikita's life was unfortunately short, having passed away in July of 2006. We will forever be dedicated to this breed because of the little puppy we bought after seeing her cute little black face. We love and miss out "six paws".
Linda, Scott and Ian Duncan
---
Memorial Page

Page 12 of Memorial Page

Page 11 of Memorial Page

Page 10 of Memorial Page

Page 9 of Memorial Page

Page 8 of Memorial Page

Page 6 of Memorial Page

Page 5 of Memorial Page

Page 4 of Memorial Page

Page 3 of Memorial Page

Page 2 of Memorial Page

Page 1 of Memorial Page
---
Edited 17 August 2005