SCOUT
Scout came to us March 3, 2001 as a rescue dog, but really he rescued us. He was a beautiful, pure bred Norwegian Elkhound who had been waiting a month for us to find him in the animal shelter. The 2 1/2 years he lived with us, he brought us so much joy and lots of daily exercise. He was a great protector, but always gentle and sweet with us. He'd do anything for a "greenie." Scout had a very aggressive brain tumor and could not maintain his balance. On September 15, 2003, after a very brave battle, he died with great dignity in our home surrounded by good friends who helped him go into the light and to the rainbow bridge. He is very sorely missed by Ted & Barbara, and his little sister, Zoe, an elkhound mix. However, we know how happy he is now and he's very grateful to us for releasing him from his physical limitations.
We love you Scout.

---
CH. WILDWOODS MYSTIC RAINSHADOW
MARCH 1992- JUNE 2003
Marrie was a bitch we bought from my friend Linda Hoffman to breed to Cruise. It was a good match and they produced some very nice dogs. Marrie was awarded the "Susan D. Phillips Top Producing Bitch" award in 2001 from the NEAA. Her sons and daughters have won BOS and Best in Sweeps at our National Specialty, and BOB, WB and Sweeps at Regional Specialties. Two have been Group 1 winners.
Sitting by that whelping box with the bitches bringing puppies into the world, brings a close bond that only a breeder feels in their heart with the bitch. She was so sweet and loving to her people but she was the boss with the other dogs. She ruled this house with an iron paw when she lived here. Everything belonged to Marrie; toys, chewies, her people, her pups and the dogs that lived here understood that.
For that reason, in her season years she went to live with my good friend Jean. I saw her once a week and I often house sit for this friend, so Marrie was really still mine. But Marrie loved my friend Jean dearly, as she got all of her attention and love and went for walks nearly everyday with her.
We have planted a rose in her garden in memory of Marrie.....it's called "Cherished"...and that she was, from the day she came to use, till the day she left. Thank you Linda, for letting us share in Marrie's life. She was so "special" to all of us. She will live on in pedigrees for years.
Virginia Sawyer


---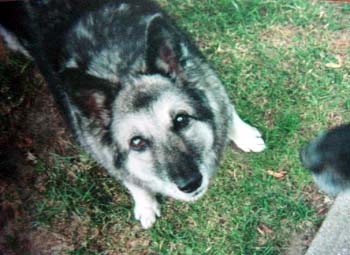 "SARAH"

1988 to April 28, 2003

"Sarah was the greatest dog I ever had. She taught me to love dogs, crafty dogs at that. I miss her so so so much every day."
john lin seattle, washington






---
KOBIE

He was born May 10, 1988 in Junction City, Oregon of regal purebred Norwegian Elkhound parentage. He died in my arms this morning, May 17, 2003, at 8:00 am in Kona, Hawaii on the Big Island at 15 years of age beneath a fragrant tropical tree surrounded by our love. He is survived by his lifelong companion, Katie, also a purebred Norwegian Elkhound, who is 14 years old. Kobe was our "first born" and I will carry him in my heart forever. Afterwards, we gathered at the beach to remember him fondly through photographs and mementos including the original $100 deposit for "male puppy" from the breeder. Kobe, I miss you so.
Rob and Aven
---
BRITT
"What a Pal!"... Britt was Norwegian Elkhound all the way and...a ' very special Elkhound' from day one... in that he was the runt of a 13 pup double-gestation litter from our sweet Elsa of Livernois. Britt was the tiniest baby Elkhound pup I had ever produced in a litter or had seen. Fit in the palm of your hand! Totally too cute! It was instant love for him, and so even with 3 Elkhounds already he was invited to remain with us as another member of the family. He fit right in, too!, I might add. He took the #2 slot, right next to his dad Eilkso. In this litter there were two sets of pups of distinct size differences... then there was Britt. Britt got his name from our first Elkhound our family acquired in 1959 while living in Great Britain, hence the name Britt. Here at 8 or 9 months old he had been caught on the couch again... didn't like it outside and barked for weeks until we gave in and he lived from then on inside... anyway, and when told to get off the couch he defied us with a bark - 'No!'. Then he was told again to get off... and he barked and as if to get up and jump off... just as he was about to get off he did a 180-degree spin and popped up on to the top of the couch and with his eyes and another yip!... said, 'there now... I am off the couch!' Such was life with Britt who we affectionately called BoBo... or Bo. or HB... for 'honeyboy'. And... what a "Bo". He was a honey boy! So sweet!! He was such a "poo". Always loving and always had his nose in the "doggie cookie box", trying to eat all the poo snacks. Kind'a quiet now, these days... but his memory will always live in our hearts forever. He will always be a part of my life...
As all of our Elkhounds do, in that they rest in peace with us on our property, Bo may not be completely gone... but his absence pulls ever so hard at the deepest parts of our very sad hearts . In every respect, Bo was a constant loving companion and a little gentleman, as well. This little Elkhound was one of those life's experiences... adventures... that while you know and feel how much it hurts now that it is over... you can't help but thank and praise the Good Lord for the experience... for in so many ways... to have been loved by BoBo and to have loved him was to have loved and shared in those deeper parts of life itself. "What a Pal!"... Sweet dreams BoBo! !! We love you!! Britt leaves behind... Trinka, Jules and LuAnn.


---
TAKKDAHL LITE'S I'M DA BAWS

Shadow
Born 9-1-89 Died 4-11-03
Loved and greatly missed by Robert and Donna Dyrdahl.







---
RIKKI
Rikki passed on at 7 years of age in a tragic accident on April 2, 2003. He was always my "naughty dog", always raiding the trash and getting into things he wasn't supposed to and this behavior was his eventual downfall as he suffocated in a bag of tortilla chips he stole from the counter while I was at work. He was really just a big puppy at heart, and was so full of life and energy. He was always ready to play, to run, to hunt, to hike, to bark, to play some more (he fetched quite well for an Elkhound), and, of course, to eat! He kept this house lively with his antics, and while sometimes frustrated by his bad habits at times, I find myself missing them terribly now because they were more than outweighed by his gentle, sweet nature and fun loving character. At the end of the day it all came down to the fact he just wanted to be loved. Nothing made him happier than a kind word and a scratch under the chin. Loved, and missed, he is! Godspeed Rikki. See more pictures and more writing about him at http://dogs.willbaker.com
Will Baker
---
THOR, CGC
September 1996 - April 2003

Lost a leg but never his spirit
Lovingly escorted to the Bridge on 4/2/03 Missed by many but none more than his adoptive family
Cheryl, Jon and Alisha Brown and greyhound Basil
---
AM/CAN CH. FOREST HILLS CHANCE
8/18/89-----3/30/03
Owned & loved by PAT WALLING & FERN KESZLER
BRED BY FERN
My daughter or I showed Chance a good deal of the time that he was in the ring in the U.S. and Canada. He was a great show dog, always ready to give 100% in the ring. He loved showing, being groomed, and of course, the baiting.
They don't come along like Mr. Chance too many times for a handler, nor a breeder. He was a born show dog and could have done so much winning if he had gone to shows week after week. He was the Junior Futurity Winner at the NEAA first Futurit, Winner's dog at the NEAA National Specialty in 1990, Winner of the Veterans Class (7-10 years of age) at the NEAA National Specialty in 1998.
Rest in peace, Old Friend, You were one of the greatest showmen I ever handled.
Virginia Sawyer.

---
LUKE

"Luke" beloved nursing home dog. Luke came to us through Garden State Rescue, and became one of our best employees. Loved and missed by 170 of the kindest people you will ever know. Special thanks to rescue for bringing him into our lives.
March 12, 2003 gone but not forgotten, "Our little fat boy". Submitted by Diane Helms (his Illinois foster mom).






---
Memorial Page

Page 12 of Memorial Page

Page 11 of Memorial Page

Page 10 of Memorial Page

Page 9 of Memorial Page

Page 8 of Memorial Page

Page 7 of Memorial Page

Page 6 of Memorial Page

Page 5 of Memorial Page

Page 3 of Memorial Page

Page 2 of Memorial Page

Page 1 of Memorial Page
---
Edited 6 May 2003